SOLAR POWERED × ALWAYS EVOLVING

Check out my

Wellness Awareness Guide
This free and easy to understand PDF highlights the elements of health that are most essential to thrive today! Register down below and receive our guide today.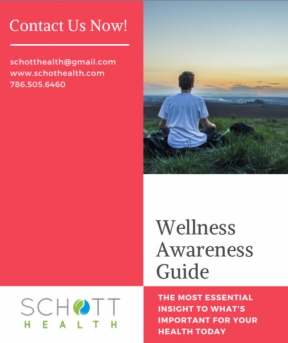 Discover how to optimize your hormones today

Discover the 2 popular supplements that are actually counter to health.

Discover a great tip to improve circulation today!
click on the links below to learn more about our one of a kind coaching and wellness programs.


The Decalcification Solution
Schott Health is born and pieced together from the mind, heart & soul of wellness entrepreneur, coach & modern day renaissance man John Schott.

Establishing himself as one of South Florida's most groundbreaking and pioneering leaders in the health field, John set himself aside from the pack with the opening of his restaurant and retail space, Lifefood Gourmet, South Florida's first gourmet raw food restaurant. His food and health services have touched the lives of high profile celebrities, athletes, and executives. He is also very mindful of the value of giving his time and service for greater causes by volunteering his time to various charitable causes, implementing nutritional youth outreach programs and to teaching underprivileged children about healthy cooking and lifestyles. John leads workshops and detox retreats in Florida, New York City, and South America.
He has attained certifications such as Iridologist from NY Center for Iridology based on Bernard Jensen Iridology, Lifefood Culinary Chef & Phoenix Fastician from Jubb's Longevity Live Food Culinary Chef from NYC. John has studied closely with the top pioneering authors & practitioners for the last 10 years in the alternative health field. His knowledge of and experience with detoxification, nutritional cleansing, wellness & lifestyle coaching has led him to create a model evolving from a decade of apprenticeship, self study, and hands-on application with hundreds of clients. He has in-depth insights into areas of health pertained to nutritional timing (or " time conscious" eating), Gerson Therapy, and other alternative healing modalities & longevity strategies. John has created health and performance programs for some of the world's highest performance professionals.